Tendai Angela Jambga-Rokkones – TRANSCEND Media Service
The poetry collection of Amani brings together an interpersonal and intrapersonal launch into freedom. In the poem 'Untitled', the author says: ''All human relationships that are not those of love are obsolete', This includes the relationship we have with self too. As a collective, readers in the past two and a half years have experienced the turbulence of emotions that have propelled us into fear, love, and discernment. Boneza has interacted with his audience with discernment by adding in layers to assist in the healing of loneliness, pain, loss, anxiety, insecurity, and depression in a language he pens for peace, love, transformation, and connectedness. From his own vulnerability, he demands trust from his readers that builds the interpersonal Love which is threaded all throughout the book. The impact leads the reader into a collective belonging, a warmth that we are not alone in the confines of the mind, and thus, the reader is invited to feel into the shadows once feared and express outwardly.
Rais Neza Boneza is a multifaceted human being, who deep dives into the depths of his emotions and paints a picture with his pen onto paper for the world to read, feel, and see. His latest collection of poetry titled 'Amani' which means Peace in Swahili is a collection of poems constructed to invite the reader into the ebbs and flows of his soul and, in turn, shines a headlight into the readers' mind, body, and heart space.
The dichotomy presented by the author resounds throughout Amani, the polarity of emotions depicted is a testament to the wisdom of Boneza. For example in the poem Trials; 'a blend of joy and sadness, the past assaults us with a cold grin…Regardless, this story binds us maybe doomed into oblivion we will keep in touch hoping to stay in tact'. This poem prompts the human mind to not simply intellectualize one emotion at a time but to be whole as we balance the contrasts, and move through the trials of life with a deep embrace knowing that there is hope.
Ubuntu is the cornerstone of Amani, an African social philosophy rooted in sharing, reciprocity, self-reliance, caring, and respect for others, among other ethical values summed into the common saying 'I am because we all are'. The late Archbishop Desmond Tutu said that 'Ubuntu will be Africa's gift to the world', this is reflected in Boneza's poem 'Ubuntu'- 'There is a sense of the whole in humanity, we want to play our part' he writes.
In a quiet meditation on a Friday morning, having read Amani over 10 times through with notes on each page, it occurred to me that with his new book, Boneza has swung the cultural pendulum by playing his part to serve the whole with his existence. He lives his words and has been actioning his gift for decades. He shows this with his work, friends or people he interact with, on any given day where he encourages authenticity, diversity, and vibrant conversation, engaging with the community by listening more and allowing them to express themselves through different meduims, and even at a live performance at a vegan food festival where he taught a group of people how to make a Congolese dish named pilau, and as an author through Amani which is intricately woven in a complete cycle of curated poems.
During an interview with Rais Neza Boneza,  he said, ''Stop looking to climb to the top of the mountain summit, instead, become the mountain.'' talking on the subject of transformative leadership and integration. I have come to know fully that he is the mountain summit and by curating bodies of work such as Amani, he teaches you to become the mountain summit too rooted in Ubuntu. 'I am because you are.' – Boneza exclaims. I implore you to keep a copy of Amani on your bedside table. Rais Neza Boneza has the cultural footprint of a Giant.
____________________________________________
Tendai Angela Jambga-Rokkones is a Zimbabwean-born certified yoga teacher trained in vinyasa yoga, restorative yoga, yoga Nidra, and trauma-sensitive yoga; passionate about practical self-care tools, and personal development. She expands her skills as a wellbeing course curator and international public speaker.  Tendai believes in the facilitation of yogic practices as a philosophy for sustainable development and innovative transformation for oneself and communities. This culminated in her work in Zimbabwe and abroad where she led workshops, classes, discussions, and courses for Emeraldhill Children's Home, a film with Fashion Revolution, TEDx, women's groups, community, and a guest speaker for The Women@Dior program in partnership with UNESCO: Women Leadership & Sustainability education program that empowers 500 young women from 35 countries.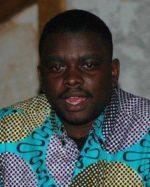 Raïs Neza Boneza is the author of fiction as well as non-fiction, poetry books and articles. He was born in the Katanga province of the Democratic Republic of Congo (Former Zaïre). He is also an activist and peace practitioner. Raïs is convener of the TRANSCEND Network for Peace Development Environment for Central and African Great Lakes and uses his work to promote artistic expressions as a means to deal with conflicts and maintaining mental wellbeing, spiritual growth and healing.  He has travelled extensively in Africa and around the world as a lecturer, educator and consultant for various NGOs and institutions. His work is premised on art, healing, solidarity, peace, conflict transformation and human dignity issues. Raïs work also as freelance journalist based in Trondheim, Norway. You can reach him at rais.boneza@gmail.com. http://www.raisnezaboneza.no

Tags: Africa, Literature, Poetry, Reviews
This article originally appeared on Transcend Media Service (TMS) on 13 Jun 2022.
Anticopyright: Editorials and articles originated on TMS may be freely reprinted, disseminated, translated and used as background material, provided an acknowledgement and link to the source, TMS: African Cultural Footprint of Peace, is included. Thank you.